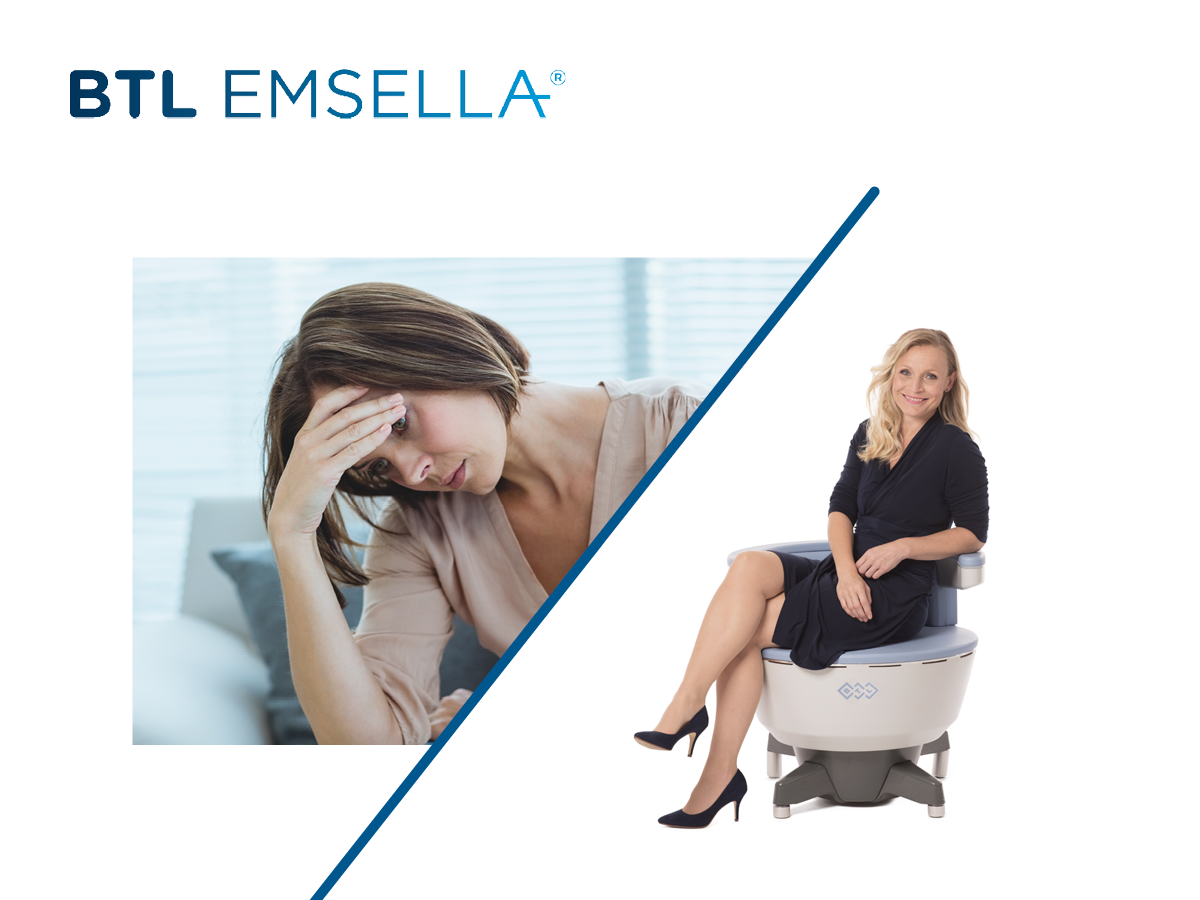 posted 17.07.2021
BTL EMSELLA — The Bladder Control Treatment
Emsella Chair Incontinence Non-Invasive Treatment
The BTL Emsella Chair is a revolutionary solution for the treatment of incontinence. We are confident that this is the easiest, fastest way to reduce symptoms of urinary incontinence and improve bladder control. This FDA approved treatment targets your pelvic floor muscles and bladder muscles and provides the same degree of pelvic floor contractions as 11,200 kegel exercises. The Emsella treatment effectively reduces stress incontinence, urge incontinence, and mixed incontinence. 
Say No to Urinary Incontinence and Yes to a New You 
Take control and stop urine leakage with the Emsella Chair, and feel a difference with just one 30-minute session (a course of six sessions is required). The Emsella treatment is completely painless, and you don't need to undress. Just sit back and relax, read a book, and strengthen pelvic floor muscles significantly more than is possible with traditional kegel exercises. 
Make time for yourself and stop accepting bladder weakness and urinary incontinence as "just" part of daily life. 
Causes and Types of Urinary Incontinence
In most women, symptoms of urinary incontinence often begin with stress incontinence, which is when small amounts of urine are released when the bladder is under strain, such as when you cough, exercise, or even sneeze. The next most common type of urinary incontinence is urge incontinence, also called overactive bladder syndrome, when you feel a sudden urge to pee and may not be able to make it to the toilet in time. Although less common, mixed incontinence can occur when urge and stress incontinence symptoms are present. In all types of incontinence, strengthening the pelvic floor muscles and the muscles at the neck of the bladder have become weaker for various reasons, such as childbirth, menopause, ageing, and, or following surgery. 
Stop Accepting Incontinence
We are delighted to offer the Emsella treatment to all women who want to stop living with incontinence. The Emsella Chair is highly effective and safe. With no downtime, you can return to the rest of your day immediately.
The Emsella Chair is an advanced medical device created by BTL, a pioneer in the innovation of incontinence therapy, with five research centres worldwide. Designed to be used just like a chair, the Emsella treatment uses electromagnetic technology to stimulate the pelvic floor at the supramaximal level. This simply means that muscles contract more than they can during manual kegel and pelvic floor exercises because your brain is not controlling contractions. If, like most of us, you struggle to do enough pelvic floor exercises daily, one session in the Emsella chair is the equivalent of 11,200 pelvic floor contractions!
Benefits of Emsella Treatment
Painless: You will experience the tensing of your pelvic floor muscles, which is painless, and some women even find the sensation pleasant. 
Easy: There is no need to undress. Just sit down and let the Emsella Chair do all the work and, with no downtime, you can get straight back to your day.
Fast: Emsella treatments last 28 minutes so that you can fit one into your lunch hour! 
The Emsella Treatment Process
Step 1: Arrange your in-depth consultation with our pelvic floor specialist, who will discuss your medical history. We are a medically-led clinic, and if we don't think the Emsella treatment is appropriate, we will always tell you. (In this case, you can redeem your £50 consultation fee against another type of treatment plan). 
Step 2: If we determine treatment will be beneficial, we encourage you to ask anything you want. We have heard it all and want to ensure you get the most from the Emsella treatment. Subject to availability, you can begin the first of your six treatments on the same day, following your consultation! 
Step 3: Treatment is then required just once per week. With 95% of patients reporting a significant decrease in all types of urinary incontinence and 84% reporting no symptoms of urinary incontinence, following a course of six treatments, isn't it time to feel confident and dry again?
If you are ready to find out how this revolutionary treatment can help you, please complete the below form to book an in-depth consultation. This can be arranged with a male incontinence specialist if requested. We will discuss your condition and the non-surgical and surgical treatment options for urinary incontinence during the consultation. Following your consultation, you will have the opportunity to try our Emsella Chair. Most clients report feeling immediate relief after the trial session.
The £50 consultation fee is redeemable against any treatment plan.
The Emsella Chair Treatment – Consultation Form.
Alternatively, please feel free to call our friendly team of incontinence specialists on 01522 523777.